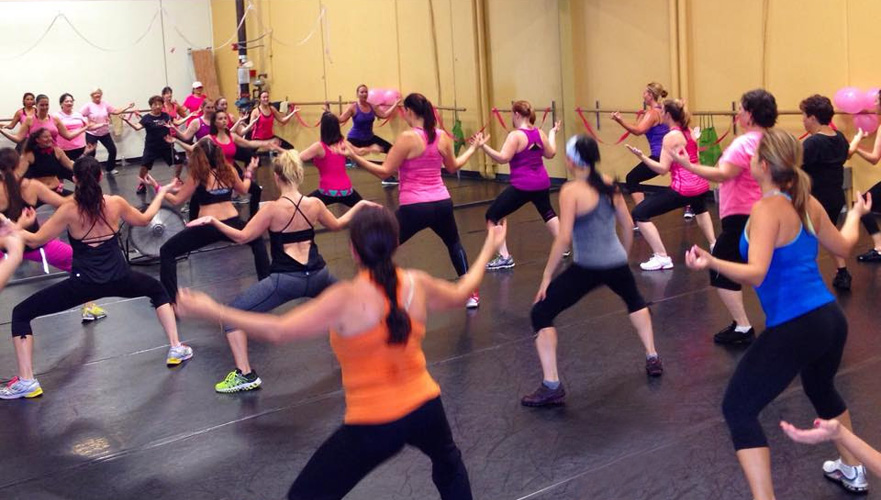 Develop a lifted seat…create a long lean body…improve your posture…increase lean muscle mass….burn calories…..deepen your practice…focus your mind.
Studio Fusion has created proven fitness systems that are specifically designed to ensure visible results in as little as 10 classes. When combined, our collection of classes will harmoniously lengthen and stretch the body, burn fat and re-shape the body, creating small, toned and sculpted muscles. Each class works in conjunction with one another creating a total mind body workout that is completely focused on delivering results in less time. With each of our classes you will feel taller, slimmer and more toned without adding bulk.
Barre Fusion
This is a shortcut to your leanest, firmest, sexiest body ever. Fusing the disciplines of ballet, core conditioning, Pilates, and weight training into one dynamic non impact class. This total body workout created by Studio Fusion consistently delivers amazing results at record speed. Set to upbeat, energetic music, this class utilizes the ballet barre and small weights to perform multiple high reps of small isolated movements, creating tiny, sculpted, shapely, long lean muscles. Created to tone, lift, and reshape the body, this 60 minute class creates defined abs, lifted glutes, slimmer hips, toned arms and long lean legs. Just after a few short classes you will see and feel results. Barre Fusion FAQs Burns up to 600 calories a class without heavy cardio. Builds lean muscle so you still burn calories even after each workout.
---
Barre Cardio Fusion
The same non impact workout as Barre Fusion but using faster continual motions, more reps, and larger range of motion to get the heart rate up, build endurance and create maximum calorie burn. The core of the workout deals with toning and resistance exercises for the butt, legs, torso and arms to sculpt the muscles and elongate the appearance of your body while burning fat.
---
Core Flow Yoga
Suitable for all levels of students, this class offers multiple layers for each level, characterized by flowing poses and sequences that are linked to the breath. Our Yoga instructors will help you learn stress management and relaxation techniques to incorporate into your daily life while stretching and lengthening the body. This is a great class to take when the body is sore from other workout classes as it stretches and detoxifies the body creating more ease within the muscles. (mats required)
---
Pilates Sculpt
Say farewell to the annoying jiggle after a few rounds of Pilates Sculpt, a body toning class aimed at targeting those tough-to-tone areas like the back of your arms, glutes, abs and inner thighs. The class utilizes a variety of equipment including balls, bands, ballet barre, weights and magic circle to further challenge your core.
---
PILOXING®
This is an exciting, cardio program that is attracting die hard followers including Hollywood celebrities and international stars. PILOXING uniquely mixes Pilates and boxing moves into a fat torching, muscle sculpting, core-centric interval workout, sure to whip you into shape, using a class format that's both fun and challenging. PILOXING blends the power, speed and agility of boxing with fun, sexy dance moves and the beautiful sculpting and flexibility of Pilates. In addition to Pilates, dance and boxing movements, the workout incorporates the use of weighted gloves which add to the workout by toning the arms and maximizing cardiovascular health. (barefoot or socks recommended)
---
Yoga Sculpt Fusion
From the creators at Studio Fusion, this class is designed to shift your energy, tone the body, bring balance and improve overall well being. In a fresh approach from traditional yoga, Yoga Sculpt Fusion is a fast paced class that merges the elements of yoga, cardio and weight training into a 60 or 75 minute transformational class. Set to upbeat music, this class is both spiritually and physically energizing generating maximum calorie burn while creating leaner muscle mass resulting in defined abs, sculpted legs, toned arms and high rounded glutes. Yoga Sculpt Fusion is designed to sculpt every major muscle group, intense core function, increase cardio endurance and lengthen and stretch the entire body. Free weights and bands serve as a means to strengthen the muscles while yoga increases length and flexibility. This intense, but easy to follow class compliments any workout practice pushing your strength and flexibility to new heights. (yoga mats required)
---
ZUMBA®
Zumba is a dynamic and exciting class full of Latin and exotic music flavors. The routines feature aerobic interval training with a combination of fast and slow rhythms that tone and sculpt the body. It targets the glutes, legs, arms, abdominal, and the most important muscle in the body, the heart! It is a mixture of body sculpting movements and easy to follow dance steps. Zumba is a fun, effective, and simple fitness system that uses the principals of interval and resistance training to maximize caloric output, fat burning, and total body toning.
---
Werq®
WERQ® redefines dance fitness, WERQ® is the fiercely fun dance fitness class based on pop, rock, and hip hop music taught by Certified Fitness Professionals. Build cardiovascular endurance and strengthen your heart muscle dancing to today's hottest Top 40 Pop, Rock and Hip Hop Music! WERQ® up a sweat on the dance floor to all your favorite charting hits!
---
Tone & Sculpt
This class is a full body workout teaching you the correct form for strengthening and toning every muscle group in the body by using light weights and bands for resistance and is an ideal workout for all fitness levels
---
Cardio Pilates Box
This class combines Pilates core and balance work, high-intensity boxing moves and dance to create an intense and upbeat workout. Be ready to sweat, strengthen your core and have fun!
---